Join me and other in my fun and group online classes every week via ZOOM.
ON-LINE GROUP TRAINING
With restrictions on As we are facing lockdown restrictions in exercising at the gym or studios, I strongly believe that everybody should be able to practice the kind of exercise that they enjoy the most whilst under isolation if they so wish. To combat this, each week I put on a range of the most extensive online group classes beamed via Zoom.
Having a been bona-fide fitness professional for over 25 years specialising in holistic lifestyles, I understand the crucial role in exercise can play improving your mental health, – something that we all need to guard closely during these times of uncertainty and in lockdown.
To ensure variety each designed suit all fitness abilities and for different age groups and abilities. Throughout the classes over you can ask me questions and get feedback on your movement.
SENIOR SEATED EXERCISE CLASS
Join my 60+ Senior Seated Exercised classes every Monday at 11am and again on Wednesday at 12noon. Join the happy crew and get to listen to fab music whilst you stretch and distress yourself into a more energetic, stronger and positive you at least for that week until we meet again. Sessions are approx. 40min using *Zoom.
Follow me on my Facebook and Instagram for announcements of my online group classes via Zoom.
---
EVENTS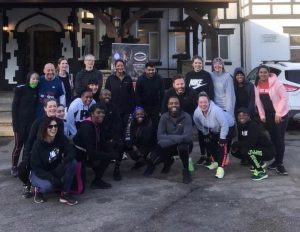 Every several months I host a Bootcamp Event at The Manor at Bickley.
My Bootcamp Events, allow you to get energized with other enthusiastic fitness people, then relax as one in this historic building with a well earned lunch.
Hopefully once local restrictions have been lifted and we return back a respectable Tier level, I shall bring the event.
For more details about my Bootcamps click here or email on gus@activelifeforever.co.uk. register an interest for my next Bootcamp event.